Aw. Yeah.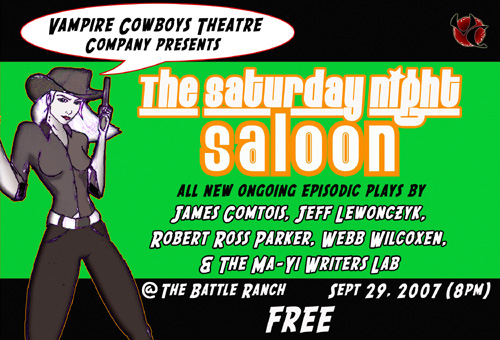 For Season 07-08, Vampire Cowboys launches its newest adventure in awesomeness, THE SATURDAY NIGHT SALOON, a semi-monthly party at THE BATTLE RANCH featuring brand new genre-bending serialized plays by NYC's hottest indie theatre artists.

And the best part, it's all FREE!

Plus for a $5 donation, you get all-you-can-drink beer (or until we run out).

BE THERE FROM THE BEGINNING!

DON'T MISS OUT ON THE PILOT EPISODES!

Featuring all new exciting ongoing series by:

James Comtois
Co-Artistic Director of NOSEDIVE PRODUCTIONS

Jeff Lewonczyk
Co-Artistic Director of PIPER MCKENZIE PRODUCTIONS & THE BRICK THEATER

Rey Pamatmat
Member of THE MA-YI WRITERS LAB

Robert Ross Parker
Co-Artistic Director of VAMPIRE COWBOYS

Webb Wilcoxen
Member of LABYRINTH THEATER COMPANY & DEVELOPING ARTISTS THEATRE COMPANY

Saturday, September 29th, 2007 @ 8pm

FREE ADMISSION!

at THE BATTLE RANCH

111 Conselyea Street, #2L

Williamsburg, Brooklyn
Labels: Nosedive Productions, of interest, theatre, Vampire Cowboys