Nosedive's Pinkie and Vampire Cowboys' Saturday Night Saloon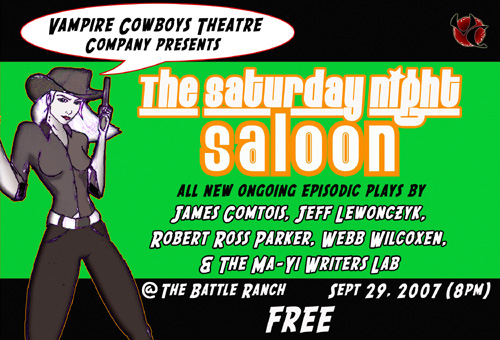 Beginning this Saturday, Vampire Cowboys launches its newest awesomeness, The Saturday Night Saloon, a semi-monthly party at THE BATTLE RANCH featuring brand new genre-bending serialized plays.

Nosedive's entry into this series is Pinkie, a Western/noir written by (and apparently featuring) Yours Truly. This five-part serial play is ultimately my attempt to transplant Raymond Chandler into the West of the 1890s. I've written the first two episodes and about half of the third one, so we'll see how this all turns out.

The pilot episode takes place this Saturday, September 29 at 8 p.m. at the Vampire Cowboys Battle Ranch on 111 Conselyea Street, #2L in Williamsburg, Brooklyn.

And did I mention it's free.

Plus for a $5 donation, you get all-you-can-drink beer .

You should definitely check it out. (I mean, you don't want to miss the first episode, do you?)

Because, after all, I'll be nagging you to come see stuff of mine that ain't free very, very soon.

Enjoy it while it lasts,

James "Ex-Pinkerton Agent" Comtois
Labels: Nosedive Productions, of interest, theatre, Vampire Cowboys