Episode Three of Pinkie This Saturday!
Well, since A Very Nosedive Christmas Carol is still a week away, those needing an intermediate Nosedive fix should come on over to the Vampire Cowboys Battle Ranch this Saturday to check out the third installment in the Saturday Night Saloon series.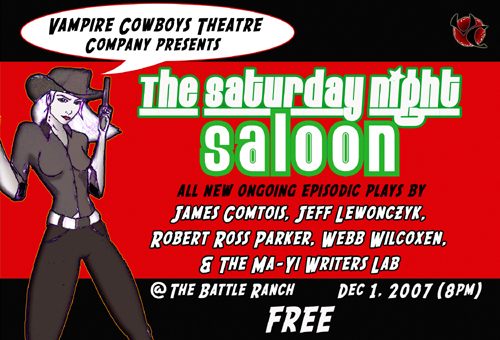 For Season 07-08, Vampire Cowboys launches its newest adventure in awesomeness, THE SATURDAY NIGHT SALOON, a semi-monthly party at THE BATTLE RANCH featuring brand new genre-bending serialized plays by NYC's hottest indie theatre artists. From Sci-fi Teenage Sex Comedies to Old West Film Noir, these new series will have you foaming at the mouth for the next installment.

And the best part, it's all FREE!

Plus for a $5 donation, all-you-can-drink beer (or until we run out).

THE SHOWS TURN UP THE VOLUME IN EPISODE 3!
COME CELEBRATE THE HOLIDAYS - SALOON STYLE!

Featuring all new exciting ongoing series by:

James Comtois
Co-Artistic Director of Nosedive Productions

Michael Lew
Member of The Ma-Yi Writers Lab

Jeff Lewonczyk
Co-Artistic Director of Piper McKenzie Productions & The Brick Theater

Robert Ross Parker
Co-Artistic Director of Vampire Cowboys

Webb Wilcoxen
Member of LAByrinth Theater Company & Developing Artists Theater Company

Saturday, December 1st, 2007
@ 8 p.m.

FREE ADMISSION!
at THE BATTLE RANCH
111 Conselyea Street, #2L
Williamsburg, Brooklyn

Click here for a map!

Saturday Night Saloon Schedule:
Saturday, September 29th, 2007
Saturday, October 27th, 2007
Saturday, December 1st, 2007
Saturday, January 5th, 2008
Saturday, February 2nd, 2008
Labels: Nosedive Productions, Pinkie, theatre, Vampire Cowboys